ZMI 20 world's most powerful power bank
The ZMI 20 PowerPack  is advertised as the world's most powerful power bank . Three USB ports ensure that three devices can be charged at the same time . The mobile battery has a total of 25,000 mAh and produces a maximum output of 210 watts.
Conventional power banks are often too weak
ZMI has already sold 150 million power banks in over 100 countries worldwide, making it the global market leader in terms of power banks sold. The demand for mobile batteries has increased dramatically in recent years. More and more people use multiple mobile devices and these have to be charged even when traveling or in places without a socket. Commercially available power banks can only charge one device or have too little charging power. With the ZMI PowerPack number 20 , ZMI now wants to bring the world's most powerful power bank onto the market. The product is currently being funded on Indiegogo and is attracting great interest.
Charge laptop, tablet and smartphone at the same time with 210W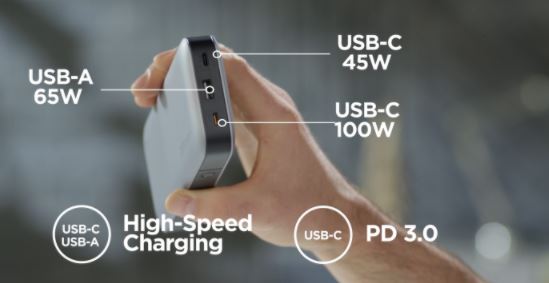 This power bank is supposed to outshine all previous competitors. The mobile battery has a capacity of 25,000 mAh and has a maximum output of 210 watts . For orientation with this charging capacity, an iPhone 12 can be charged 5 times , a Macbook 1.3 times and an iPad 1980 1.9 times . The nice thing about this power bank is that it has three USB ports and can therefore charge three devices at the same time. These can be laptops, tablets, smartphones, controllers, headphone consoles and other smart devices that are USB compatibleare his. The three USB ports are independent of each other and equipped with PD 3.0 . The USB-C1 connector has 100W power, the USB-C2 over 45W of power. The third connection is a USB-A port that produces 65W output. The USB-C1 is the most powerful port and charges a MacBook to 75 percent in one hour and a full charge of an iPhone 12 in 1.75 hours.
2 hours for 100% charging of the power bank
Many power banks have the problem that they take a long time to be fully charged. The ZMI PowerPack No. 20 promises faster charging times and should be fully charged with 25,000 mAh in just 2 hours . If this takes too long for you, you can stop the charging process after 50 minutes and get 60% battery power with 15,000 mAh. There is a small LED screen on the power bank that shows the current battery level as a number . A heat protection ensures that the battery is not too hot and never 57 degrees Celsiusexceeds. This also makes the power bank a problem-free companion on air travel.
he classic scope of delivery for the ZMI PowerPack 20 includes the power bank, a USB-A to USB-C 6A cable , a USB-C to USB-C cable and a small manual . On Indiegogo is currently running a campaign , making the Power Bank just under reduced 160 euros to 83 euros is. The delivery is free and ZMI gives buyers 18 months warranty on the power bank. ZMI is currently in the production phase, it is expected that the supposedly most powerful power bank in the world will be shipped worldwide from April 2021 .